Music for Your Wedding Reception - St. Louis, MO (also available for travel)
100 + Guests - Our Dance & Party Band consists of 5 musicians & vocalist (male & female) This band works from a huge song list and plays all the great songs from the Swing & Big Band. Party Rock'n'Roll from the 50's & 60's and great Disco Dance songs can be included. Since the Band has such a tremendous list of songs from which to choose, emphasis can be given to a particular style of music, if you like. The Terry Thompson Dance & Party Band has been playing music together for many years & promises to treat you and your guests to a wonderful, memorable, fun wedding reception.

Many wedding receptions do not require a full band for the entire length of the reception. The Manhattan Jazz Trio (using 3 musicians from the larger band) can begin your reception with nice cocktail or dinner music. The larger Terry Thompson Dance & Party Band can begin playing after cocktails or dinner. In this way, music can be provided for up to 5 hours (or more) if needed. All performers are professional and highly skilled musicians. Tuxedos are standard for wedding receptions unless otherwise requested.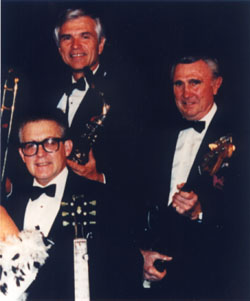 100 Guests or
Less The Manhattan
Jazz Trio is a versatile
trio consisting of piano,
bass & drums (or horn)
- or guitar, bass and sax.
This small combo plays
upbeat cocktail jazz,
standards, show tunes,
classical, pop tunes (Sinatra, Natalie Cole) and even music of the big band era, the nostalgic 50's and 60's. A vocalist can be added to this group to add an extra dimension. Great Music for Classy & Fun Receptions or Rehearsal Dinners and other special occasions.
The Manhattan Trio puts you In The Mood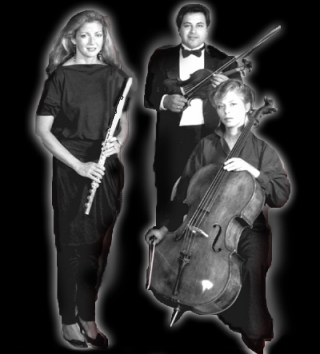 Music for Your
Wedding Music of
the Classical Masters
consists of string trio
or quartets, solo
keyboard, flute keyboard
or piano and other
combinations for your
wedding. Our talented
and professional
musicians can play
a variety of classical
music, including pieces
from Haydn, Mozart,
and Beethoven.